By KOLN | 

Posted: Sat 12:11 PM, Apr 29, 2017
LINCOLN, Neb. (WOWT) — Jeremy Hoefs is traveling the trail to recovery, scarred by the misdirected shotgun pellets that ripped into him. And he's toting a message for hunters, "because you never know what may happen."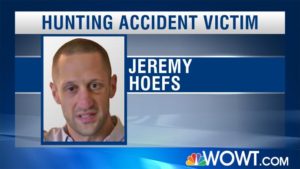 What happened in Jeremy's case was a great day in the outdoors that ultimately threatened to take his life.
"One second I'm finding mushrooms, hunting turkeys and the next split second, that all changes," he said.
The Lincoln man, a father of two, said the day collapsed when another hunter mistook him for a wild turkey and pulled the trigger. Jeremy felt a sharp pain.
"The first thing I thought to myself was, 'Am I going to be able to run? Am I going to be able to see my family? How bad is it?' because you don't know because you're in this state of shock and your adrenaline is pumping and you truly don't know what's happening."
After spending several hours in the hospital Jeremy now wants to share his message as a lesson to hunters of all skill levels.
"Nebraska Game and Parks has workshops on hunter safety and classes. Even the Outdoor Education Center right here in Lincoln offers so many great classes. It's best to learn as much as you can because you never know what may happen."
Jeremy continues to meet with doctors to get him on track for a full recovery.